Posted by Guganeshan.T in
Photography
on Dec 4th, 2011 |
6 responses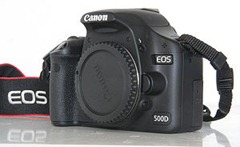 Despite the craze over great photos and photography in general, I managed to live with only a 3.2 megapixel mobile phone camera (I still do).
A DSLR camera has always been in my "wish list", though nobody cared gifting me one

– just kidding.
I was helping a friend of a friend with a .NET software, that required photos to be directly transferred to a PC as soon as they are captured. As far as I know, digital cameras go into a "USB mode" that makes them mass storage devices, just like ordinary USB thumb drives.
But my friend told me that DSLR cameras have the ability to capture photographs even when connected to the PC and that they can transfer photos immediately to the PC too. To cut a long story short, we confirmed that the Canon EOS 500D DSLR camera of that friend is suitable for the project and the camera was handed over to me until I build the software (Yay!)
This model is actually old and there are many new DSLR cameras released by Canon. But, I should say that the days spent with this camera has made my DSLR wish stronger! I've always frowned at noisy low-light photos from mobile phone cameras. But the EOS 500D produces almost crystal clear photographs even in lamp light! If an old model can be this cool, how Canon 7D, Nikon D7000 or a Sony Alpha range camera would perform!
Ok, I'll stop drooling over precious DSLR cameras and show you what I have achieved photographically with this camera, as a newbie.
Here are some of the photos I like personally.
The photos shown above are from my flickr photostream (I created a new account for this. A plus point from the DSLR encounter). And they are also posted in a Google+ photo album.
There won't be any posts categorized under "Photography" hereafter until I get my hands on a great camera again. So, to make sure this is not the last, I need to stop typing here and start writing an important letter immediately. I'll start that letter like this…
"Dear Santa…"

Leave a Reply