Posted by Guganeshan.T in
Featured Articles
,
Tips
,
Tools
on Feb 26th, 2010 |
32 responses
Ok, so you don't have to own a BlackBerry to enjoy "Push" email: Email that is actively transferred (pushed) to the device as it arrives. It doesn't even have to be a Smartphone.
The reason why I selected a Sony Ericsson K800i is because… I still use it! 😉  Though I use a SE K800i here to demonstrate the settings, I'm pretty sure you can use the same settings with any phone that supports IMAP to send and receive Gmail messages.
Off to the steps…
Enable IMAP access in Gmail
If you haven't already done so, you have to enable IMAP access in Gmail, so that you can use the mail client in your mobile device to access your email.
1. Go to "Settings" in Gmail and select the "Forwarding and POP/IMAP" tab:

2. In the "IMAP Access" section, select the "Enable IMAP" under "Status".

Remember to save your changes
Set up the mobile phone's mail client
1. From standby, select "Menu" => "Messaging" => "Email" => "Settings".
2. Select "New Account" and type a name for your account (e.g.: "My Gmail Account").
3. When you press "Ok", you will be taken to the first set of settings. Select "Connect Using" and select a data account you have set up in the phone (If you don't have one, you will have to set up a data account with your mobile operator first. Without a data connection, you won't be able to continue).
4. Once the data account is selected you will be back to the settings. Now select the next item, "Email Address" and enter your full Gmail address (including "@gmail.com"). Press Ok.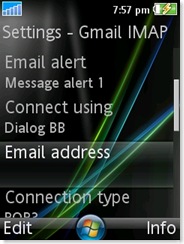 5. Next step is to select "Connection Type". Select IMAP4 as the connection type.
6. Then change the "Incoming Server" option's value to imap.gmail.com. Username should be your full email address and set your Gmail password.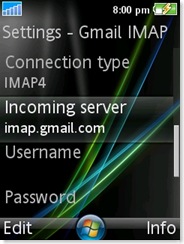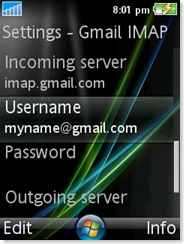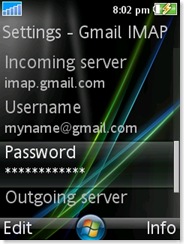 7. Change the "Outgoing server" option's value to smtp.gmail.com, and move on to the "Advanced Settings" option.
8. Under Advanced Settings, you can set your name (how you want it to appear in mails) and a signature. Under "Download S&R", I recommend you select "Subjects Only" so that you can check the subject and decide whether to press the button on the mail to download it or not.
"Check Interval" can be used if you don't want to use Push email. Setting a check interval won't keep the phone connected always. Instead it will check for mail periodically when the check interval elapses (This is recommended if your phone has battery life problems!).
Turn "Push email" on if you want to be notified about incoming email as it arrives (like in a BlackBerry!). This option will not be available at this time. But it will be available AFTER you create the account. The only warning I would give is that it will drain your battery fast. So if it is a problem, leave it off and use the "Check Interval" option to an appropriate value.
9. Now select the "Encryption" option. You will find two sub options in it. Select SSL for "Incoming Server" option and select "TLS" for the "Outgoing Server" option. Use the back button on the phone to come out of the "Encryption" settings.
Select the "Outgoing Username" next and enter you full email address (including "@gmail.com"). And enter you Gmail password for "Outgoing Password".
Set the "Incoming port" to 993 and "Outgoing port" to 587. That is the last option under the "Advanced settings" section. Now press the back button to come to the previous settings screen. Press the back button again to come out of the email settings altogether.
You should get a popup saying: "Account created. Select the new account if you want to use it as your active account."
(Note: Hope you remember, I said that the "Push" email option wouldn't be available until the account is created. Now, either you should get another popup sooner or later saying that Push access can be enabled asking whether to enable it, or you can go into the settings again and turn it on).
To go back to edit any settings you should follow:
Messaging => Email => Settings => (now highlight the account) => More => Edit Account.
10. To send and receive email, come into the email inbox => More => Send & Receive. You can mark mails for deletion. To clear the emails that were "marked for deletion", you should select "Clear Inbox".
That's all folks.. enjoy Gmail through IMAP4, using an old brick.
Hope that helps at least another Sony Ericsson K800i user!
Further Reading:
Leave a Reply