Posted by Guganeshan.T in
Personal
,
Story
on Aug 31st, 2011 |
no responses
Anybody who visits my blog can scan through the publish dates of the posts and know that I am not a frequent poster.
According to SEO experts, updating blog content regularly will effect the web traffic positively. So for a "rare" poster like me, seeing "Views per day: 10" in the WordPress analytics everyday is not new, and I am not serious about web traffic volume as I am (still) only a hobbyist blogger.
The small "Spike"
But what I saw yesterday in the "Wordpress stats" plugin's chart, caught my attention. And you will know why if you take a look at the following image: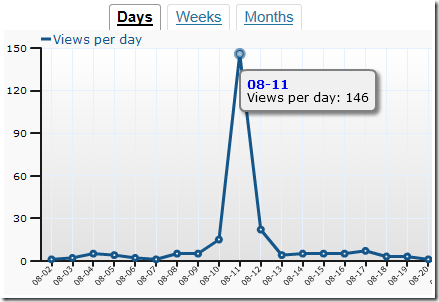 As you can see, the "Spike" on the 11th of August 2011 is really unusual.
So I clicked on the date to see more detailed information about it. The post that has attracted most of the 146 views on that day was → Tree leaves becoming "pinhole cameras" during the Annular Solar Eclipse. Though that particular post brings at least one visitor from Google search everyday, the majority of the 146 visitors did NOT come from a Google search on 11th of August.
Minor "Reddit" effect
What the statistics revealed to me was that someone has linked to my post from a comment in Reddit. Because websites like Reddit have a huge following, even a mere fraction of that community's clicks will show a marked difference in traffic (read: Reddit)
News and social bookmarking websites like Digg, Delicious, Slashdot and Reddit are popular for slowing down or even closing down smaller sites temporarily when they flood a smaller site with traffic when a story/post becomes popular (read: Slashdot effect)
Motivation
This cannot even be called a "spike" if I was a professional blogger! Though the increase in traffic was a very minor & temporary one, it made me publish a new post after long time and it has also motivated me to post more regularly… let's see 😉
Peace.
Leave a Reply